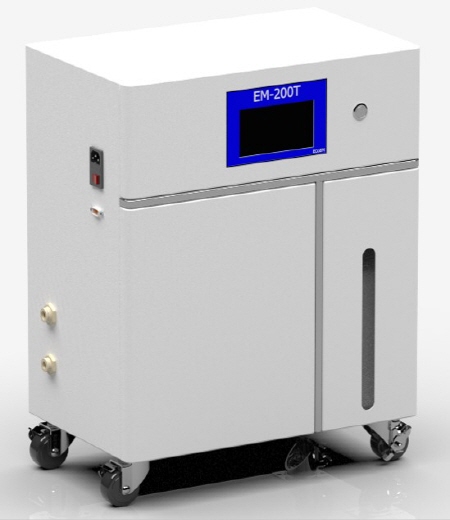 Product name: EM-200T
1) Use:
-Manufacture and use sodium hypochlorite preparation (chlorine-based) sterilized water
Desired business establishment
2) Applicable business establishment
-Business establishments that require less than 1 ton of sterilized water per day
--Business establishments that require a sterilized water production facility at low cost
--Business offices that you want to install and use in your favorite place with a compact size
--Business establishments that want to apply smart farms to automated systems
--Sterilized water of desired concentration in both automatic and manual system
Business establishments that require production
3) Features
--Smart farm system
--Electronic video system
-High efficiency single cell method
--Low power system
--Convenience of movement
4) Instructions for use
1. Make sure that the flow velocity of water (purified / distilled water) is constant.
2. Allow power.
3. Select automatic or manual.
5. Start after understanding the ventilation facility and dangerous factors.
6. Understand whether the information displayed on the LCD panel is normal.
Product specification table
MODER

EM-200T

POWER

220V 50/60HZ 750W

DIMENSION(min)

W440*D275*H570

SOLUTION&QTA

OCI 3.0L/min

CONCENTRATION

100~200mg/L(PPM) Depending on chemicals


SETTING

Current, chemical supply pump

TYPE

Non-diaphragm electrolytic method

CONDITION

Ambient temp 5~50°c Water temp 10~30°c

CONDITIONFOR

PROPER INSTALLATION

Min flow rate : 10L/min water pressure : ≥ 2kgf/cm2​

​WORK

Consant voltage method. Constand current method
Detailed specifications







전면




후면




가동부




제어부
적용 사업소